The Doo Dah Parade is a sometimes-yearly free-for-all that's crazy, counter-cultural, anti-Conservative—and a whole lot of fun. (Click here to read a report from 2010.)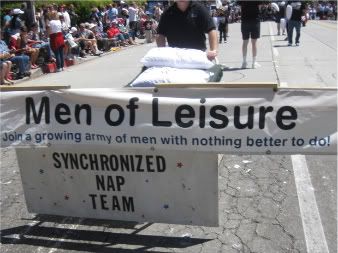 In past parades there was Iron Man with his rolling ironing board, ironing! The Million Marijuana March was there, as were the L.A Derby Dolls, and the ever-popular Billy Mays  Fan Club wearing their Snuggies. There are also transvestites, people in little motorized cupcakes and Elvis on a Vespa and Atheists United strutting their unbelieving foolishness for all to see!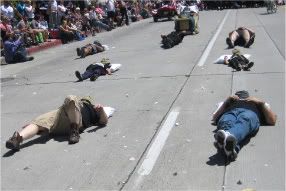 And that's why the evangelism team is there every year as well with our own counter-cultural message: Repent and believe in the Savior!
If you want to go to an event that is crazy fun, where parade-goers throw marshmallows and corn tortillas at the participants, then this is the event for you!
Meet at Hope Chapel, Hermosa Beach at a special time: 8:30am to carpool. Or call me at 310 374-4673 x.121, leave a message, and I'll tell you where to meet us in Pasadena.

Last year I was stopped by the police because I was preaching to

the crowd—illegally!!! Here is a nice, polite way to deal with officers when they interrupt you when giving the Gospel. (Read the full article by clicking here.)