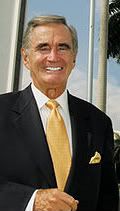 "Have you come to a place in your spiritual life where you can know for certain that if you were to die today you would go to Heaven?"
This is one of the key questions that D. James Kennedy taught students to ask in his witness training called "Evangelism Explosion." Sound familiar?
The very first "Evangelism Explosion" clinic was held on February 20, 1967. Thirty six pastors attended. Since then thousands of pastors have been trained, and in 1996 EE International reached its goal of planting EE teams in all 211 of the world's nations.
Read the rest of the story when you get a copy of  The One Year Book of Christian History.