I HAVE A DREAM… that a multitude of Christians would gather to share their faith at the two parades we will be attending and that multitudes would be saved as a result of the Gospel being preached.
My favorite photo of all time is when I handed a Giant money tract to Stevie wonder at the first MLK Jr. Parade.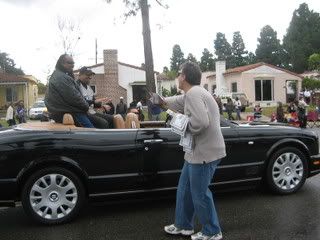 The next year I was castigated by my Christian brethren for wearing a special event appropriate T-shirt. (I won't be wearing it again, but will be bringing thousands of special event-appropriate Gospel tracts.
And last year, I was caught on-camera by ABC television while running into the parade to give out my Gospel money tracts (see below from 1:06 to 1:16). We were then rained out.
What will happen this time as we venture to a new parade on Saturday in Long Beach and then to our regular parade in L. A.? Join us and find out!
Saturday: Meet at Hope Chapel at 8am to carpool. Parade is in north Long Beach. Parade starts at 10:30. Route: MLK Jr. Ave. from 7th St. north to King Park where a festival will be held from 12:30-5pm.
Monday: Meet at Hope Chapel on Monday at 7:30AM to carpool. If you'd like to meet us down there, we'll be at the corners of Crenshaw Blvd. and MLK Jr. Blvd. at approx. 9:30am. Call me at 310-374-4673 x.121 for more info.