Next week I'll be offering a critique on various methods of evangelism that, from my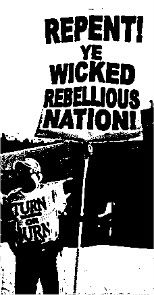 perspective, aren't very effective, or at the very least, suspect. I'll ask you what you think and then offer my perspective. Here's what you can look forward to starting Tuesday:
Questionable sign guys (and their questionable signs, like this one.)
Video: "The Man Who Hates Everyone"
Granted, not everyone will agree with my assessments.
And, I'll offer an opinion on why someone would get violent toward an evangelist  preaching the Gospel in the open air. (Based on a prior experience I had.)