PhotoBomb evangelism was a new technique developed at the Santa Monica Pier at the Ambassadors' Academy last summer. Simply smile when a tourist takes a picture.
Then hand them a Gospel tract afterward. Smiles all around!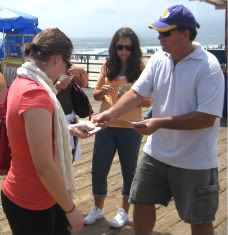 Join us at the end of Route 66 this Saturday for a great time at a destination that is full of tourists from around the world.
Meet at Hope Chapel at noon to carpool or show up at the Santa Monica Pier between 1-1:30pm. Look for the people with the Giant Money.