(This is part 5 of a series. Part 1 starts here.)
Just before the inauguration on January 20, former President George W. Bush had some time to kill before traveling to D.C., so he joined our evangelism team at the Martin Luther King Jr. Parade. He, too, wanted to dress appropriately for the occasion so as to win as many to Christ as possible.


Taking inspiration from my "Obama the President" T-shirt, he did me one better—a whole lot better. And boy, could this ex-Pres preach! People listened in rapt attention as he discoursed on sin, righteousness and the judgment to come. It's a good thing that he was able to dress accordingly.
Of course, he had the whole Presidential Cosmetic Surgeons' team at his disposal.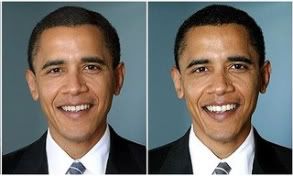 (Thanks to the L.A. Times "Top of the Ticket" blog for the photos.)