My thirty-year-old prayer was answered: Dad made a profession of faith in Christ after 88 years of unbelief. He was no longer headed for Hell but would have eternal life in a place where there's no more pain and no more tears. But did he, really? I had my doubts….
I was doubtful because he didn't sound sincere when he believed. There was no contrition, so sorrowful weeping over all the years he had lived in rebellion to God's laws. No joy either that his sins were washed away. Maybe he had "believed" because he wanted to please me.
Now my dad was in the Emergency Room because he refused to stay in bed and fell headlong onto the floor. He was barely conscious, had a nasty gash on his forehead and re-fractured his already broken shoulder. He would shout "Get me out of here! Get me out of here!" every time he awoke while trying to climb out of bed. The doctor informed me that this might be the last time I'd ever see him alive. I needed to confirm that his salvation was real, so I asked him if he had thought about our conversation the night before.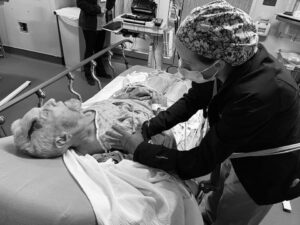 "Yes! I believe!" he replied.
"Believe what, Dad?" Then I rehearsed the Gospel again to him. "Do you believe that you are a sinner?"
"Yes!"
And you need God's forgiveness through Jesus?"
"Yes!"
"You believe Jesus died for your sins, was buried and on the 3rd day rose from the dead?"
"Yes! Yes!"
"Dad, I love you, but are you just saying this to get me off your back?"
"No! You can take it to the bank!"
That evening when I visited him, he had rallied back. I was told that he put his hands together and sang a song. Was it a hymn? I asked him again if he remembered giving his life to Jesus yesterday. He did. I read to him Psalm 135, a portion of John 14 and recited Psalm 23 over him before leaving.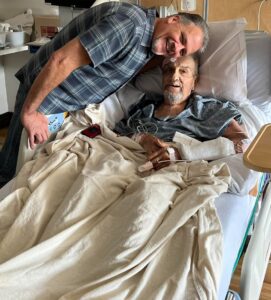 The following day was his 89th birthday and he was remarkably lucid. I don't know why the whole family was so surprised that he was talking, joking—even walking—we had prayed for that! I remembered some of my favorite Paul Sanchez quotes over the years:
"I don't feel 88, I feel like a 110."
"Ya know Steve, you just get uglier in your 80s. Do you know any good looking guys in their 80s?"
And the reason he wears his Korean Veteran's hat? "I've gotten about $10,000.00 in drinks and meals so far!"
He even made his public declaration of faith by agreeing to be baptized.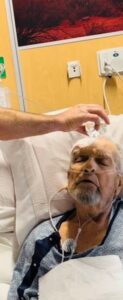 Since he was confined to his hospital bed, I could only sprinkle him, even though I'm a "full immersion guy." After rehearsing the Gospel with him one more time—he still believed!—I baptized him in the name of the Father, and of the Son, and of the Holy Spirit."
As a family, we ate cake, sang "Happy Birthday," and rejoiced together.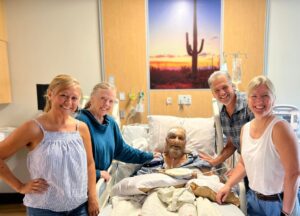 The following day was Father's Day. I was now convinced that my earthly dad now knew his Heavenly Father. It had nothing to do with his sincerity, contrition, sorrowful weeping, or even his joy, but only because "salvation belongs to the Lord" (Psalm 3:8).
You can take that to the bank.