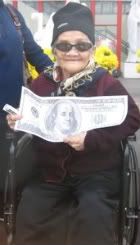 This Saturday we will be celebrating Tet by going to Little Saigon in Westminster for the Vietnamese New Year Parade. Afterward, we'll enjoy a Vietnamese lunch together. Meet at Hope Chapel at 7:30AM to carpool.
The lady pictured on the left was a then 103-year-old woman we met two years ago in the area. Her son-in-law explained that she tried to kill him with a knife. (Read about it here.) Maybe we'll see her again this time around, and hopefully she has dealt with her anger issues.
This should be an interesting event on another level, too. According to the Orange County Register, a coalition of Vietnamese gay, lesbian, bisexual and transgender groups will march down Little Saigon streets on Saturday – a first for the annual Tet Parade.
*****

If you'd like to stay local, there will be a short excursion to the Hermosa Beach Pier as well. Meet at Hope Chapel at noon to carpool.
Next week: The Chinese New Year
Golden Dragon Parade in Chinatown!