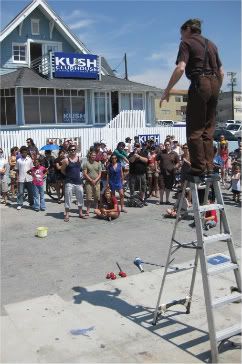 We discovered a new place to preach when visiting Venice Beach: the Kush Clubhouse.
We are there to preach the gospel, not to make a statement about medical marijuana, though the term "medical" is highly doobie-ous. One of our evangelists asked the proprieters if he would be able to buy some hemp because his elbow hurt. They said yes. "How about a headache?" Yes again. (No he didn't buy any.)
The guy pictured on the left is a street performer. No one bothered him when he spoke.
The guy being confronted below by two security guards from the pot house er, dispensary is one of our open air preachers delivering the message in front of the Clubhouse. For some reason, people get all worked up when the Word is delivered in front of this place. But it's just what the (good) Doctor ordered.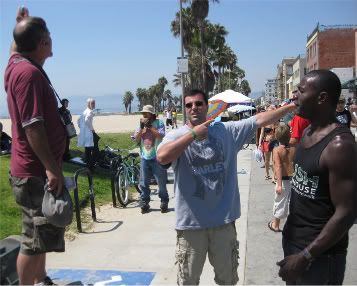 Want to join us for some fun this Saturday? Meet at Hope Chapel at noon to carpool.