This Saturday, we will be going to one of the wealthiest places in SoCal: the Palos Verdes Penninsula for their annual street fair. Though it's expected to be rather uneventful in terms of angry outbursts, I'm sure there will be a fair number of Security officials who will try to stop us from handing out tracts and conversing on the public streets. Most are just ignorant of the First Amendment. (If you haven't read "On Dealing with the Police," print it out and memorize the protocols.)
Meet at Hope Chapel at noon to carpool.
WEST HOLLYWOOD GAY PRIDE PARADE
On Sunday the team will be going to the West Hollywood Gay Pride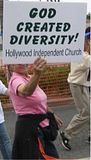 Parade, a very difficult venue for evangelism.  Born again, fundamentalist Christians are generally unwelcome in this part of town—even hated—partly because of the unloving attitudes displayed to this community by self-righteous believers, a lot of them who hold hateful signs. We go because we love the people there; we go to listen and to reason with them about Hell, Heaven, and the Savior. Not recommended for kids.
Meet at Hope Chapel at 7:30AM to carpool.

Did you know we have a "Gay Equality" Gospel tract? Click here to download it for free.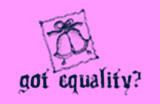 See a whole raft of evangelism articles dealing with the homosexual community including our strategy of not arguing, by clicking here.