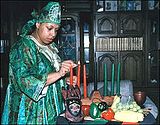 What? That's right. The day after Christmas we will still be reminding people about what the season is really about since Kwanzaa is a fairly recent made up holiday, created by a Professor of Africana studies at Cal State Long Beach. This is from the founder, Maulana Karenga:
During the early years of Kwanzaa, Karenga said that it was meant to be an alternative to Christmas, that Jesus was psychotic, and that Christianity was a white religion that Black people should shun.[7][8] However, as Kwanzaa gained mainstream adherents, Karenga altered his position so that practicing Christians would not be alienated, then stating in the 1997 Kwanzaa: A Celebration of Family, Community, and Culture, "Kwanzaa was not created to give people an alternative to their own religion or religious holiday."[9]
Tom Nance-Ulrich will be leading a team to this festival. Meet in front of Calvary Chapel South Bay's Bookstore at 1PM, Saturday. Returning by 5PM.
*****
SAVE THE DATE: THE 4th ANNUAL TOURNAMENT OF ROSES PARADE IS ON JANUARY 1st!!! WE'LL BE GOING BY  METRO RAIL AT 5AM!