This Labor Day weekend we will be at the Fiesta Hermosa, a three day street fair where an estimated 100,000 people will attend. We will have an evangelism booth at the base of the Hermosa Beach Pier, the only Christian presence at the fair.
Of course, our booth doesn't shout out that we are about Christ; no, it is an Intelligence Test  booth where hundreds of people line up to fill out questionnaires (click here to get your free I.Q. Test tract), then we share our faith. (See how we do it here.)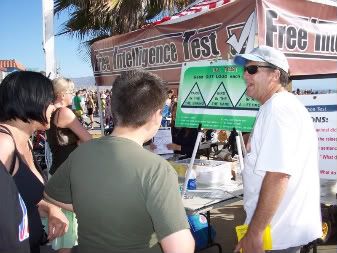 We also preach at bus stops. Below, see "Righteous Richard" Chavarria belt it out at a previous fair on Memorial weekend, 2008.
We will be there from 8am-6pm, Saturday, Sunday and Monday. Park at the Mira Costa High School parking lot on 1401 Artesia Blvd. (3 blocks east of Pacific Coast Hwy) in Manhattan Beach, and take the shuttle bus down, then walk to our booth at the base of the pier.

To see what we are doing the rest of the month…
Sept. 11: Huntington Beach Pier with Ray Comfort
Sept. 18: Redondo Beach Pier
Sept. 25: Muslim Festival
Oct. 2: The Awakening evangelism conference at Calvary Chapel, Costa Mesa