This Saturday we will be heading down to Huntington Beach to share our faith alongside Ray Comfort and 50+ evangelists from The Ambassadors' Academy, where I will be leading a team of ten from around the country. Meet at Hope Chapel at noon to carpool.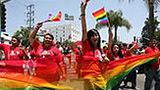 This Sunday we are going to another "PRIDE" event in the heart of West Hollywood to graciously share our faith and hand out specially designed Gospel tracts.
According to the L.A. Pride website, "The 39th annual LA PRIDE Parade is expected to gather over 400,000 people this year and will feature over 125 parade entries including floats, bands, performances, marching community advocacy groups, smiling seniors, proud parents, out teachers and convertibles with honored guests. The parade will run west along Santa Monica Blvd. from Crescent Heights to Robertson Blvds."
Meet at Hope Chapel at 9AM to carpool. Or, if want to join us there, meet us at the corners of Robertson and Santa Monica Blvds. at approx. 10AM. For info and map click here. LEAVE THE KIDS AT HOME FOR THIS ONE.