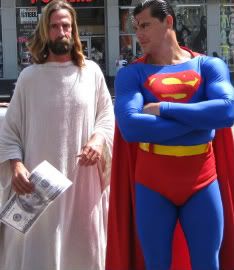 The strangest things happen on Hollywood Blvd….
And that's where we will be going this Saturday afternoon!
Our first destination is always Pink's World Famous Hot Dogs, where we preach to the hundred people standing in line. Next we head up to Hollywood Blvd. and set up shop in front of Grauman's Chinese Theater and preach to the people in the forecourt while handing out hundreds of Gospel tracts. We also do Stop Light preaching on the corners of Hollywood and Highland Blvds.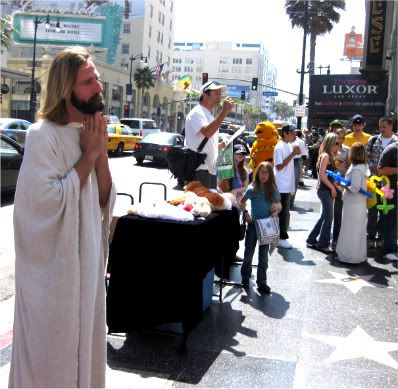 We pack up about 4:15, and time permitting, stop in to IN N' OUT Burger and let Val Scott preach a mini sermon inside (he originated this technique). Next, we finish up at Pink's again, where a brand new line o' sinners is just waiting for an open air preacher to give them an eternal perspective.
Meet us at Hope Chapel at noon to carpool, or at Pink's about 1:30, or Graumans about 2:00.

On Tuesday, August 18, we will be heading down to Del Mar Race Track to bless the Hispanic workers who live on the track. We have a BBQ, clowns, puppet show, raffle, a Gospel message and lots of Spanish tracts. Meet at Hope Chapel at 8AM to carpool. For further info , call Barbara Twyman at 310.374.4673 x121. (Read about what happened last time by clicking here.)
And my 6 week evangelism training class,
"Sharing Your Faith Without Fear,"
starts on Thursday, August 20.