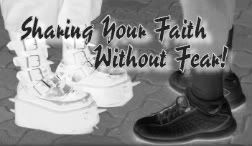 This Thursday evening our last evangelism class of the year, "Sharing Your Faith Without Fear," starts. If you live in the area, this 6-week course will greatly enhance your evangelistic potential. It's free if you pre-register by leaving a comment, $15.00 at the door.
See what past students thought of the class below, including my cute little daughter D.D..
On Friday morning I will be leaving at 6AM with a small team to help out a friend at his

church at the state capital, Sacramento. His congregation has been hit with a lot of unemployment issues, so I'm going to teach my one-day evangelism class to see who gets on fire, so God can build up the church. If you live in the area, join us on Saturday for the class and then afterward as we will practice what I preach. I will also be teaching at his church on Sunday morning, and preaching at the capital Friday and Monday. Click here for church location, and call for the evangelism class location.
This Saturday we will be traipsing down to the Redondo Beach Pier for our evangelism adventure. Meet at Hope Chapel at noon to carpool.
Next week: USC football!