Forget wearing green, getting pinched or even being Irish. This day is about a man of God who cared about harvesting souls. Cheers!

Ireland has a very distinctive history. It was an island untouched by the Roman legions,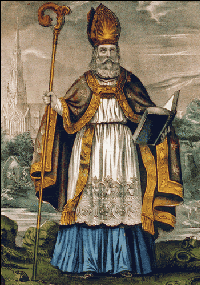 and Patrick, the Evangelist, brought to it the Gospel of grace.
Patrick was himself descended from a family that had been, for two generations at least, in Christ Jesus. His father, he tells us was "the deacon Calpurnius, son of the late Potitus, a presbyter, of the settlement of Bannaven Taburniae."
These facts are recorded in Patrick's own testimony of faith. This authentic document is preserved in five manuscripts: one in the Book of Armagh of the seventh century, the second in the Cotton Library of the tenth century, a third in the French monastery of St. Vedastus, and two more in the Cathedral Library of Salisbury. This authenticated document is the main source of both the person and the mission of Patrick, and also his clear statement of the Gospel of grace. Click here to read the rest.