UPDATE: My crazy friend Paul Latour made a color correction to the photo below and another subtle silly change. Just thought you'd like to know. (You can see the original here.)

On Wednesday eleven evangelists took part in another covert operation master-minded by the Way of the Master.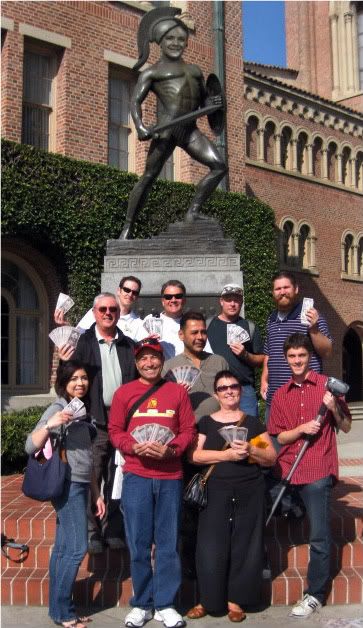 Last year it was the "Origin of Species" book give-away,  a copy of Darwin's magnum opus of fairy-telling with a special 50 page forward by Ray Comfort, handed out on 170 university campuses (read about it and watch the video here).
This time, though smaller in scale, the C.A.U.S.E. (College and University Student Evangelism) project was a huge success as we converged on the campus of USC handing out over 2,300 Gospel tracts and engaging in many, many, one-on-one conversations with curious and appreciative students.
For a full report, please click here to read Tony Miano's blog about the scale and scope of what happened nationwide.