(Read part 1 by clicking here!)
It looks like this man wasn't very happy with my preaching at the Hawthorne Department of Motor Vehicles.


In fact, he looks rather angry.

Of course, I was completely oblivious to his apparently agitated state.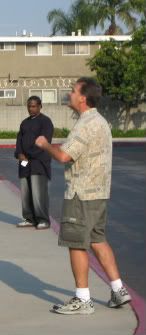 But agitated or not, I still had a job to do. I took all those standing in line at 7:50 in the morning through the 10 Commandments: "The 9th Commandment: 'You shall not lie.' Have you ever lied, told a half truth or a bald-faced exaggeration? If so, then you are a liar!" I proclaimed. The 8th Commandment: 'You shall not steal.' Have you ever stolen anything, regardless of value? A penny, paperclip… cookie—even if it was in the past? If so, then you are a thief."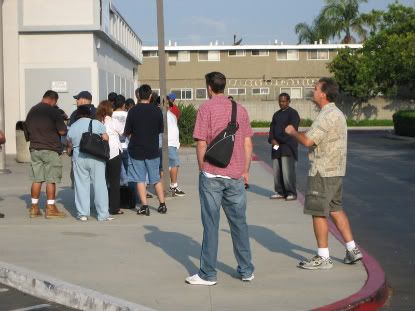 I warned that lust was adultery and hatred murder according to the Bible, that God would not hold anyone guiltless who misused His name. I warned of Judgment Day and Hell for all those who have sinned. Then I spoke of the love of God demonstrated by Jesus' sacrifice on the cross. If they would only repent and put their trust in the Savior, they'd have everlasting life.
I thanked the people for their patient attention.
The man in black made his move. I didn't see it coming at all.

He raised his hands toward me…
…and started to—clap. He smiled. As did a few others. They clapped, too.
Raising my hand in a gesture of thanks, I left.
No problems today preaching the Gospel. But there's always… tomorrow.