A few weeks back I explained very clearly why I can't prove that God exists, and even if I were able to, an atheist would still die in his sins because his belief would not come by faith. (Please read the article "Damning Proof" here).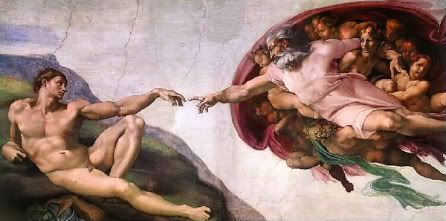 Well, now there's a man who says he can actually prove God's existence. His name is Sye Ten Bruggencate, and he heads Sinner Ministries, which features a great website called ProofThatGodExists.org (but you probably already guessed that). Here's his claim:
You have likely heard that it is impossible to prove that God exists. You have heard wrong. Not only can the existence of God be proven, denying the proof undermines rational thought. It is true that God does not need anyone, let alone this website, to prove His existence. The Bible teaches that the existence of God is so obvious that we are without excuse for denying Him. No one needs proof that God exists, I simply offer these 8 steps to the logical proof of God's existence in addition to what you already know (and may be suppressing).
There's a catch to getting into his site, though. You must answer all his questions correctly first. Answer wrongly, and you get a free visit to the happiest place on earth.
Most atheists, I assume, will give up trying to get into the site, instead, settling for a ride located somewhere in Fantasyland. Click here for the site.

(My apologies for not having the article written that explains the atheist's real reasons for trying to convince us that their viewpoint is correct. God-willing, I'll have it ready by next Tuesday. Look for the article, "Awaiting the Millstone.")