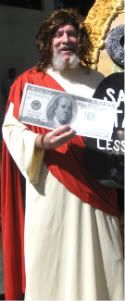 Can you think of anything more foolish than a cadre of unbelievers declaring in unison that there is no God while marching in silly costumes at the 2011 Doo Dah Parade in Pasadena?
I can think of something more foolish: a cadre of believers preaching the truth that there is a God, a God who will hold them accountable for their actions and their unbelief. (Click here to start at PART 1)
"For since in the wisdom of God the world through its wisdom did not know him, God was pleased through the foolishness of what was preached to save those who believe." (1 Corinthians 1:21)
I haven't seen Bruce the Atheist since 2008 when he and his friend Millstone Frank tried to persuade my daughter that there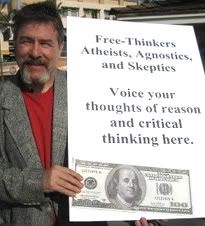 was no God. She remained unconvinced and you can read about it here.)
Well, Lo and Behold! There was Bruce dressed up as a poor rent pilgrim proud of his blasphemous parade float and signs. There was only one thing to do: Preach. In fact we preached to this darkened crowd twice just to make sure they heard our message loud and clear!
Here's the first session:
Want to see the second video where an atheist heckler shouts, "You're an idiot! You're an idiot!" until Bruce the Atheist whisks him away?
Well then here it is. Unfortunately, you won't be able to hear him shouting at me, but I sure heard it…. Click here to see The Harmonica Heckler in PART 4!