I want to invite all atheist readers of my blog to our fellowship, Hope Chapel. But I must warn you: We are not seeker-friendly, we are user-friendly. That is, we are not going to pander to you by offering a watered-down, man-centered, toothless message designed to make you feel good.
Oh! Here's our church welcome sign from two weeks ago: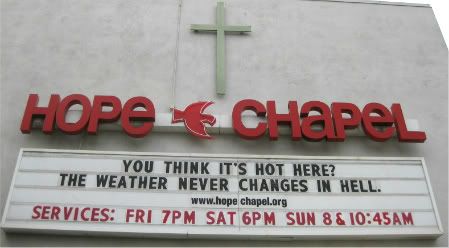 We are user-friendly though. That is, we will provide you with a very comfortable environment in which you may hear the truth of the biblical Gospel, taught verse by verse, in a message that is from 45 to 60 minutes long. (You can even bring coffee into our sanctuary.) You will also hear that you are a sinner, that you've broken the Commandments, that you are headed for Hell and the only way to be saved is by trusting Christ and repenting of your sin—nearly every week!
Oh! Here's another of our church's welcome signs from last week: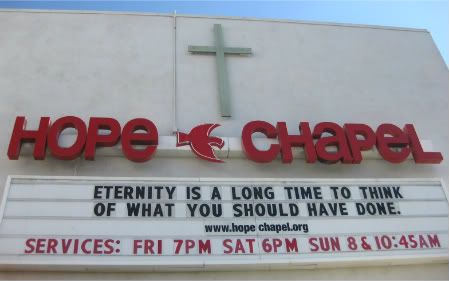 See you on Sunday? (Okay then, come Friday night at 7pm or Saturday night at 6pm.)
Whatcha waiting for? I'll even buy lunch (or dinner).
Did you see this other church?
(Admittedly, this video is more for the Christian than for the atheist.)