Okay. Maybe I've been a little harsh on the atheists who visit here; I haven't given them enough credit. I've focused on the negative maybe a little too much and haven't given kudos to the positive achievements that radical unbelievers have brought to our society. Well then, in the spirit of mea culpa, actually, in the spirit of mea maxima culpa, let me report to you the latest developments in positive atheism.
A wonderfully giving group of students at the University of Texas at San Antonio handed out free magazines to fellow collegians on campus! That's right. Members of the Atheist Agenda offered free pornographic publications to anyone who turned in their Bible. Their bright red signs covered in large black letters said: "FREE PORN" and "SMUT FOR SMUT. "We want to spread atheism and bring it more to the spotlight. We offer another alternative to people who might not fit in anywhere else," explained Kyle Bush, the group's president.
A big hand to the atheist's contribution to literacy! Yay! (Read more here.)
In other news, Florida atheists fought against superstition by washing away a blessing placed upon a local highway by a religious group. According to Fox News:
Armed with brooms, mops and "unholy water," the atheists gathered Saturday to symbolically clean up holy oil that Polk Under Prayer put down on Highway 98 near the Pasco-Polk county line last year, Bay News 9 reported.

"We come in peace," Humanists of Florida director Mark Palmer announced before he and members of other atheist organizations launched their cleanup. "Now that's normally what aliens say when they visit a new planet, but we're not aliens, we're atheists!"
Thank you atheists for fighting the good fight and protecting us from backwoods rituals!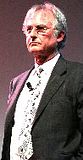 And according to WORLD on Campus the Pope of atheism himself, Richard Dawkins, promoted open dialogue between believers and unbelievers at the Reason Rally several weeks ago by encouraging atheists and agnostics to "ridicule and show contempt" for the religious and their doctrines. The example he used was the Roman Catholic belief that the bread and wine of communion turns into the actual body and blood of Christ. He encouraged atheists to mock and ridicule the religious in public.
Yesiree… the world is indeed a better place when atheists contribute their ideas of peace and culture to a society.
Please, Christians, never stop preaching the Gospel! Never!