The "ARE YOU READY?" cross elicits many reactions, not
all of them encouraging, but the two questions that always seem to come up is: "Are you ready for what?" or "What does that mean?"
At this time of year you may want to answer, "Are you ready for the New Year ?" And if you did answer in that way, you'd miss the point  of the "ARE YOU READY?" cross. Yes, those would be wimpy answers indeed.
No, the cross is meant to provoke this answer from the one who holds it: "Are you ready… to die?" Then there should be a follow-up question: "If you died today, would you go to Heaven or Hell?" You'd then, of course, take them through God's standard of moral goodness, the 10 Commandments, and then tell them about the Savior.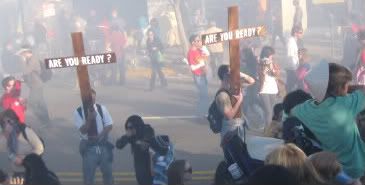 But if all that is too much for you while standing on the street with a heavy cross, then my friend Paul Latour, of The Word Street Journal blog, has a solution: The "ARE YOU READY? Gospel tract. Here's what it looks like: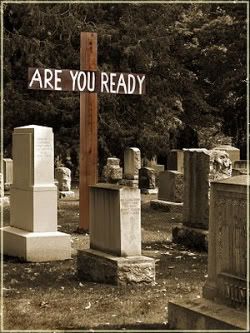 It also comes in black and white with a serious Gospel message on the back. Want to download your own for free and print up a few hundred? Click here for all the info you'll need.