My name is Rich Curry and I am taking part in "The Everyday Club." I thought you would want to hear about the impact that it is having on me and a particular blessing that God poured out yesterday.
Since committing to the club I had been faithful in meeting or exceeding my commitment of verbally witnessing and/or distributing at least 3 tracts per day, that is until this past Saturday. As I lay in bed sleepless, realizing that I had not met my commitment for the day, I was very distraught. I found myself praying that God would somehow present me with an opportunity to be used in a powerful way although I had not been faithful the day before.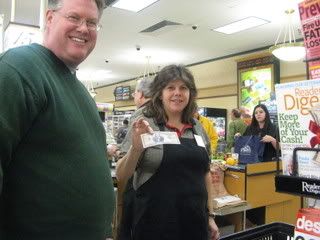 On Sunday morning I was up early and ran to the grocery store. I was able to distribute a good number of tracts even though it was still very early. When I got home as we were getting ready for church, I began to reach into my pockets to reduce the number of tracts that I had bulging in them realizing that I wouldn't need them at church and that I would still have a few if somehow a need arose going to and from church. However, something told me to keep them with me. As we pulled up to our church, which meets in a local high school, we could hardly find a place to park as there had to be 500 cars in the lot. Since there are only about 200 people in our church I figured that there was something else going on. Although I was hoping it was a revival, it turned out to be a huge youth wrestling tournament.
To make a long story short my pockets were not bulging with tracts by the time we got home. God gave me the opportunity to pass out more tracts and engage more people for Christ than I could have hoped for. We stayed about an hour and a half after church passing out tracts. Although I am still disappointed at missing the mark on Saturday, God showed His faithfulness on Sunday and allowed me to be faithful even though I had fallen short the day before. We serve an awesome God!
Want to join? (Click here to enroll; click here to report for January.)