Here are some of the commitments from people who have enlisted in The Everyday Club. (Click here to enroll; click here to report for January.)
Personally, if I hadn't made my commitment to this club I know for sure that I would have missed some daysto share my faith. Just last Friday, it was 10:50PM and I had not yet handed out any Gospel tracts. I went into our local Vons grocery store on the way home from church and handed out my quota. Another night, same story. I spotted a long line outside a bar, pulled over, and met my goal. Even now, as I write this on Sunday evening, I have to pass out ten tracts. Will I do it? Well, it is my goal….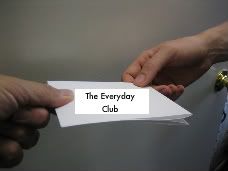 Tina:
I am just finishing up the Way of the Master Basic Training Course and am excited to share my faith. My goal each week is to leave at least 10 tracts (waiting rooms, grocery checkout line, etc), to hand at least 3 tracts to someone personally and to speak to at least one person about the tract leading to the law/gospel.

I also am requesting prayers for my husband. He is not a Christian. He has thrown away my tracts on more than one occasion and ridicules my faith.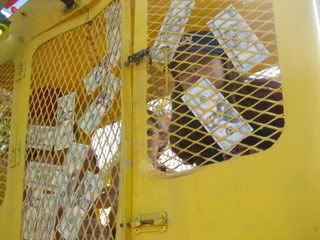 Jonathan Slater:
Count me in. I'm in a seminary program and work part time at a bank. I like to carry the money tracts in my front pocket and usually people ask for them….which works pretty sweet. Since my manager seems to be indifferent to the Gospel and likes the happy customers, it works well.

I pledge to hand out 10 tracts a day or share the Gospel verbally once a day.
Paul Brycki:
I am in. Thanks for offering this to everyone, I also need an accountability group. I will be handing out a tract a day and verbally sharing my faith at least once a week in a one to one encounter. Please pray that God will set up these divine appointments for me.
Joy Gray:
I would be honored to be a part of the Every Day Club. I will give one at least one tract every day, pray for the person, and look for more opportunities at work and on my day off.
Paul:
Count me in to hand out one tract or verbally witness to at least 1 person a day!