You know you have been in the Hill Country of Texas too long when the big 7-point buck you've been waiting for since the start of deer season, finally shows up on Sunday morning, but you don't want to be late for church so you wait for him to come back on your "day off."
I'm glad I waited because God rewarded me with an even bigger one on Monday afternoon–my day off–with a 9-pointer!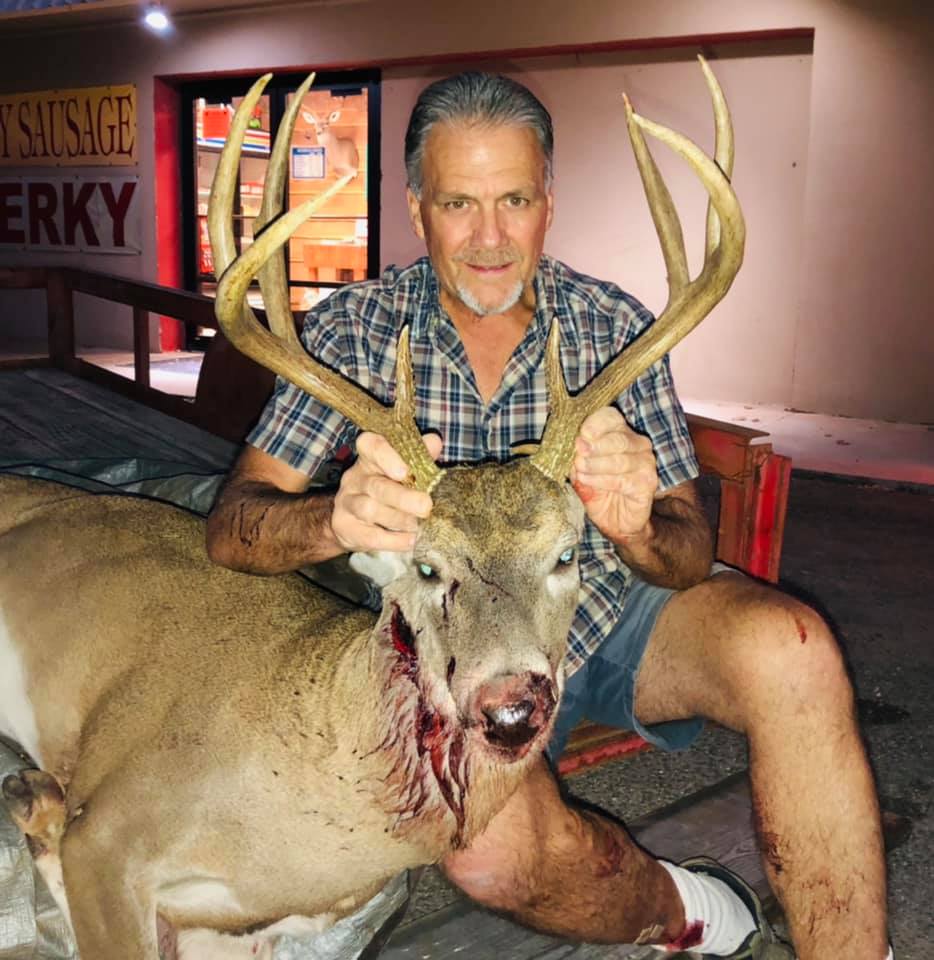 I woke from my Monday afternoon nap, opened my window shades and there he was. I ran to get my .30/30, then I heard the deer feeder go off on the other side of the house. He bolted to get some free corn. I walked to my front porch, and there he was, snacking on the treats along with about ten other does. I took careful aim and… well, let's just say that I'll soon have a freezer full of sausage, backstrap and tenderloin.
And, yes, I thanked the Lord.
But, that wasn't the end of the story. It took a lot of hard work to make sure that the buck stopped here. (Caution: Don't read any further if you don't like graphic hunting tales.)
I thought I took it in one shot, but instead of hitting it through the heart, I shot its shoulder first, breaking its leg. Then I shot again at his heart and somehow missed. It went through his chest. He then started limping away. A third shot went through his neck. At that point I ran out of bullets. (I've only needed one each year, so I only brought three.)
I had to make the decision to chase him down and break his neck bare-handed or run back to my house and get more bullets.
I ran back to get more bullets.
I brought my .380 handgun and loaded my .30/30 again. When I got back he was gone. After looking carefully, I saw him in the trees and chased him, but the dude continued to limp away, just out of range.
I left my .30/30 behind and brought my .380 Glock only.
I shot him in the head. Once. Twice. Three times. He still got up and limped away. I had only three more bullets left. I prayed that God would let him die. I shot him two more times in the head but he was still alive. With one .380 bullet left I shot him point-blank in the forehead.
That did it.
I was asking for God's help the whole time because I did not want this poor guy to suffer. This was the first time I did not fell a deer with one shot. I then dragged his maybe-150 pound carcass back to my suburban.
And then to the deer processor, where I ordered sausage, backstrap and tenderloin.