A FRIEND OF MINE WAS ARRESTED IN ENGLAND AND FOUND GUILTY for a heinous crime. Was it robbery? Assault? Murder? Nope. None of those. Mike Stockwell got busted, along with his compatriot Michael Overd, for speaking the truth!
I met Mike Stockwell back in 2008 when I was leading a team for  The Ambassador's Academy,  an evangelism ministry started by Ray Comfort that teaches normal Christians how to share their faith simply and biblically by handing out Gospel tracts, having personal conversations and by street preaching.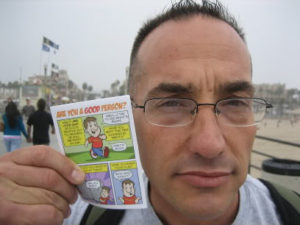 I didn't know it then, but Stockwell would continue to preach the gospel in streets around the country and the world as a calling and vocation for the next nine years. Jesus said, "Go into all the world and preach the good news"—and he obeyed!
Now he's paying the price. Continue Reading