This is a new tradition: Repeating this post at Christmas time.
Sufferin' for the Savior with Santa in SoCal ain't easy, but someone has to do it! I gave ole St. Nick a tip that he will never forget (I think he works for minimum wage and never gets Christmas off, poor guy). I just hope that he reads and believes the Gospel message on the back of the bill. As good a person as this jolly fellow is, all his good works toward all the children in the world still won't save him. WOE! WOE! WOE!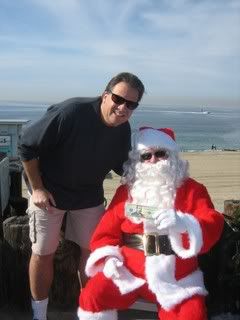 Below, please find two videos that your family and friends will enjoy for the holidays. The first is the Christmas linebacker; you will absolutely crack up when you watch this. The second is a fun little interview I had with "Gene Simmons," formerly of the rock band KISS. The video is called "Kiss, Off! because as you will see the guy is a little off…
I'll be taking a few days off from blogging, but will return on Thursday. So grab a mug of eggnog or hot chocolate, gather around the computer screen and rejoice while watching the following  two videos with those you love.
THE CHRISTMAS LINEBACKER

Watch this hilarious video featuring a hard-hitting linebacker who "punishes" all those who take the Christ out of Christmas. Click here to watch the video from SermonSpice.
KISS, OFF!
A strange conversation with a confused man…