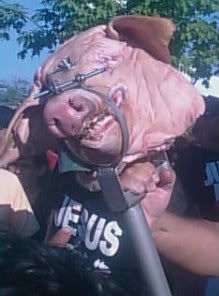 Perhaps you've heard by now about the seriously misguided efforts of some "Christian Thugs" who brought a pig's head on a stick to the Dearborn Arab Int'l Festival 2012, and taunted American Muslims to the point that items were thrown at them.
I have had the unfortunate displeasure at being at many evangelism venues with this team and have apologized for their behavior on behalf of gracious, gentle Christians everywhere. (Read my Facebook interview with the leader of this gang by clicking here.)
Many will say to me on that day, 'Lord, Lord, did we not shake a pig's head at the crowd in your name…?'
Here's a brief video version of the incident. (Click here for a longer version that gives greater context but has some bad language from perturbed teenage festival goers. Turn off the sound when watching.)
Enough press has been given to these guys…that's why I won't mention them by name.
But did you here about this man, Tim Berends? He had a radically different approach in reaching out to the people at the Dearborn Festival, one I wholeheartedly endorse. Read on…
This year, the Arab International Festival in Dearborn, Michigan was again targeted by two types of Christians. And the news media picked up both stories. In one, Christian "protesters" charged in waving confronting signs and placards and carrying a pig's head on a pole. The other was Tim Berends, a six-foot-tall guy wearing a warm smile and a I-(heart)-Muslims T-shirt.

While the "protesters" were ducking rocks and bottles, Tim quietly moved through the crowds handing out Chick tracts to booth keepers and spectators alike. By the end of the 3-day festival, that attracted over 300,000 attendees, he had salted 4000 copies of the tract, Unforgiven into the hands of mostly Muslim people.

The T-shirt, with "John 9:35-38" on the back, attracted much attention with some Muslims asking where they could get one. Tim would walk against the flow greeting people with a smile and the Arab greeting, "As-Salamu Alaykum (pronounced, aah suh laah mu aah lay kum) which means "peace be upon you" and hand them a tract. Often a family would approach and the father would ignore Tim but, behind her husband's back, the wife would reach for the tract. (Please continue reading by clicking here.)